Recycled Papers in a rainbow of colors, sizes and weights, and at very low prices.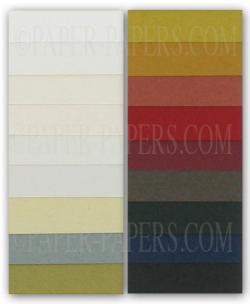 Recycled Paper
Today, we're faced with a growing number of environmental concerns. But thanks to advancing technologies and manufacturing processes, the paper industry is able to offer customers a wide array of recycled paper options. Paper mills have discovered the appeal of recycled content, and are now utilizing it for their bright whites and everyday colors. And in the process, they're producing paper products boasting excellent quality and wonderful brightness.
Great news! Recycling paper products can benefit the environment and conserve energy.
It's been shown that recycling 1.1 tons of copier paper saves more than 2 tons of wood. Studies suggest that if half the world's paper was recycled, about 20 million acres of forestland would NOT have to be harvested. With no need for bleaching, there's no risk of chlorine or other toxins flowing into the waterways. As more paper products are recycled, landfill content is cut down, greatly reducing the need for incineration and the air pollution it produces. Plus, recycled papers require less energy and give off much less greenhouse gas emissions, which may reduce the threat of global warming.
Recycled paper products are utilized for many purposes, and they're competitive with many virgin papers.

Recycled paper has stepped up to be the 'PREFERRED' choice among the print and design industry. As we celebrate the growth and quality of recycled paper, we still understand recycled products cannot ALWAYS replace virgin papers! Many customers actually require virgin paper for various purposes and responsibilities. In some situations, virgin paper is necessary for manufacturing, due to a mills pigmenting process that require consistent color predictability.Paper-papers.com customer representatives are available to address any questions or concerns you may have about recycled products and to help point you to the product that serves your need.
Paper-papers.com carries a huge selection of recycled paper and recycled envelopes, in a rainbow of colors, sizes and weights, and at very low prices. By using recycled paper, you'll be rewarded with valuable benefits for the planet, your health, and even your organization's reputation and bottom line!