Malmero Perle
Malmero Perlé by Cordenons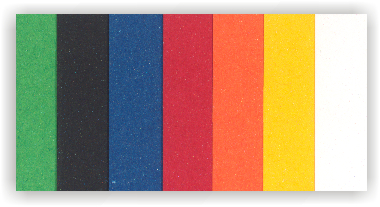 Malmero Perlé, by Gruppo Cordeonons, has a bright, vibrant finish with a delicate scattering of silver sparkles (glitter) consistently through the finish on both sides. It has a soft smooth feel and natural matte surface. This beautiful, versatile paper is available in 7 Vivid Colors: Blanc (White), Mangue (Yellow), Orange, Vermillion (Red), Abysse (Blue), Noir (Black), Emeraude (Green). You can select this paper in either the sturdy cover weight of 92lb (250gsm) or durable text weight of 81lb (120gsm).
At Paper-Papers we offer the available stocked sizes of 8.5" x 11 & 28.3" x 40.2". We offer cutting for those unique orders which cannot be satisfied with our standard stocked dimensions. To learn more about our cutting options, please view our 'cutting fees'.
Malmero Perlé is Ink jet & Laser guaranteed within the substance range recommended by the printing machine manufacturers.