Construction by French Papers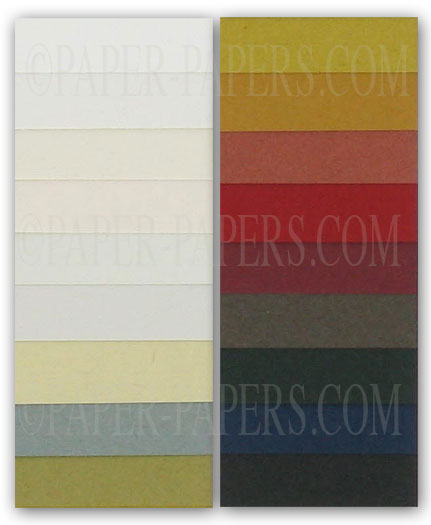 The earthy, yet durable shades of Construction paper, made exclusively by French paper mills, is a great addition to those creative projects with a subtle influence of earthy tones. These shades are very different in color, but share a family of undertones which will allow for mixing and matching of various shades.
--Acid free / Chlorine free
--Laser & Ink Guaranteed for Construction Text Weight (Cover may be limited by its thickness)
--All French paper products are made with clean, renewable energy / 100% Green Hydropower
We carry this practical line of paper in various sizes & weights. You can view all Construction products at paper-papers with easy navigation on our site, you can quickly find all the Construction Paper and Envelopes.
Construction is made up of 18 color selections (15 colors & 3 shades of white). Here at Paper-Papers we stock a high majority of these colors in the paper & various envelope sizes.
Note colors and their recycled content...
Virgin Fiber (non-recycled): Pure White
FSC Certified (non-recycled): Insulation Pink
FSC Certified & 30% recycled: Grout Gray, Electric Red, Paver Red, Timber Green, Nightshift Blue
100% recycled/30% post-consumer: Recycled White, Whitewash, Tile Green, Cement Green, Steel Blue, Factory, Green, Fuse Green, Safety Orange, Brick Red, Charcoal Brown, Blacktop