A7 FOIL LINED Envelopes - Warm White (Ecru) Envelopes with Gold Foil - 50 PK
SKU: FL-A7E-G-WW-50
FOIL LINED ENVELOPES
SUPERFINE envelopes with foil lining are ideal for important events. Foil lined envelopes are an excellent choice for any occasion. Find the perfect match for your event and announce your important event encompassed with a quality envelope with foil lining.
Announcement Envelopes
Side seams / Square flap
A7/7-BAR/Lee Envelopes (5.25-x-7.25-inches) 133x184 Millimeters

Size: A7 (5-1/4-x-7-1/4)
Content: Virgin Fiber
Basis Weight: 104 GSM (28/70lb Text)
All Foil Lined Envelopes stocked at Paper-Papers are lined inside the Envelope's 'flap' and 'throat'. (See illustration) The red box shows the approximate placement of decorative lining inside our foil lined envelopes.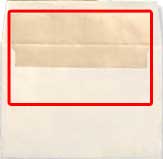 Quick reference -- Envelope Size Chart:
A2 - (4 3/8 in x 5 3/4 in)
A6 - (4 3/4 in x 6 1/2 in)
A7 - (5 1/4 in x 7 1/4 in)
A8 - (5 1/2 in x 8 1/8 in)
A9 - (5 3/4 in x 8 3/4 in)
View all
FOIL LINED ENVELOPES