Astrobrights - ECLIPSE BLACK Paper (23 x 35) - 80lb Cover
Astrobrights - ECLIPSE BLACK Paper (23 x 35) - 80lb Cover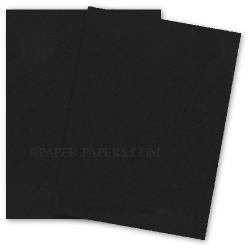 SKU: WA-AB-FULLC-EB
Mill Code: 22484
AstrobrightsŪ Cardstock Paper
Eclipse Black
Paper size: 35" x 23"
Basis Weight: 80lb Cover (216gsm)
Package: Price Listed Per Sheet (please note...20 sheet minimum, per color)
Recycled 30% post consumer (limited colors)

You have an announcement -- want to make a splash -- and AstrobrightsŪ is ready. Twenty-three attention-getting colors are always consistent, side-to-side and run-to-run. What's more, this remarkable text and cover paper always delivers a high quality performance. For direct mail, cards, posters, and flyers, count on AstrobrightsŪ.
Colorfast note: AstrobrightsŪ colors contain water soluble dyes. Not recommended for products where moisture or light may cause bleeding or fading of dyes.
Astrobright colors containing recycled content: Stardust White, Sunburst Yellow, Galaxy Gold, Orbit Orange, Re-Entry Red, Planetary Purple, Lunar Blue, Celestial Blue, Terrestial Teal, Martian Green, Jupiter Java, Gamma Green, Eclipse Black.
View all
ASTROBRIGHT SWATCHES
- View all
Astro Brands
You may be interested in these Popular Items