PS Collection - 8.5 x 11 Cardstock - TRY-ME Pack
PS Collection - 8.5 x 11 Cardstock - TRY-ME Pack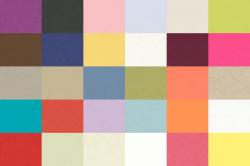 SKU: WNP-PS-SAMP
PS COLLECTION
SAMPLER PACK
Consists of 39 Sheets
(32 Matte PS Colors / 2 Luxe Colors / 5 Shimmer Colors)
PS COLLECTION is a unique, versatile color palette offering a full range of color to accommodate the creativity of any Designer. All card weight paper in this group is 80lb Cover.
MINT
CORAL
ROYAL BLUE
CLOVER
CHARTREUSE
SAGE
LAKE
BLUEBELL
POOL
POPPY
BLOSSOM
RED
BLACK
WHITE
PURE WHITE
PAPAYA
SUPERFINE SOFT WHITE (IVORY)
GRAVEL
CEMENT
BEET
PLUM
CURRY
MOSS
ECO WHITE
FUCHSIA
SUNSHINE
PERSIMMON
PEACOCK
PAPER BAG
AUBERGINE
SLATE
NIGHT
LUXE COLLECTION is a soft, warm and traditional sheet made with a 20% cotton paper from Italy. It has a lovely texture quality. All card weight paper in this paper line is 78lb cover.
SHIMMER COLLECTION is two sided coated, offset and laser printable. This exclusive range of metallic and pearlescent colors has been expressly created to give an "astral effect" to one's work, meeting the more sophisticated trends of fashion. All card weight paper in this paper line ranges from 98lb to 107lb cover.
QUARTZ
GOLD
OPAL
SILVER
ANTIQUE GOLD
(This product may take 3 business days prior to shipping)
-- PS Colors: Some colors are offered in limited sizes only--

Aubergine


Beet


Black


Blossom


Bluebell


Cement
(Wheat)


Chartreuse


Chocolate
(Cocoa)


Clover

Coral


Curry


Fuchsia



Gravel (Stone)


Lake


Mint


Moss


Night


Papaya


Paper Bag


Peacock


Persimmon


Plum


Pool


Poppy


Red


Royal Blue


Sage


Slate


Sunshine


Pure White


Superfine
White


Eco White


Superfine
Soft White
View all products by
Waste Not Paper
You may be interested in these Popular Items