Mohawk Superfine SOFTWHITE - A7 ENVELOPES - Smooth Finish - 1000 PK
This product is associated to the following category pages:
All Envelopes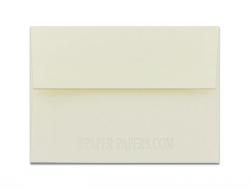 SKU: MO-33480-1000
Mohawk Superfine ENVELOPES
Envelope Size: A7 ENVELOPES (5-1/4-in-x-7-1/4-in)
Color and finish identified in product title
Color Options: Ultrawhite (98 Bright), White (89 Bright), Softwhite
Finish Options: Eggshell (or) Smooth
Sub. 70
acid free (archival)
ECF - Elemental Chlorine Free
enhanced ink hold out
FSC certified
ink jet compatible in text/writing (digital)
laser compatible in text/writing (digital)
opacity high
Manufactured with Green-e certified windpower

Soft, luxurious Mohawk Superfine inspires great design. A highly refined, traditional text and cover paper, Superfine is chosen by designers for its superb formation, archival quality, and timeless appeal. The paper features three perfectly tuned white shades and a comprehensive selection of weights and finishes. Acid free.
View all Mohawk Superfine products
You may be interested in these Popular Items