[Clearance] Malmero Noir (Black) - 8.5 x 11 Paper - 81lb Text - 50 PK
[Clearance] Malmero Noir (Black) - 8.5 x 11 Paper - 81lb Text - 50 PK
This product is associated to the following category pages:
CLEARANCE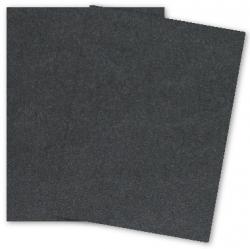 SKU: GCMP-811T-BLK81
Malmero Perlé Paper
Size: 8-1/2-x-11
Paper weight: 81 lb TEXT (120gsm) 6 pt
Malmero Perlé, by Gruppo Cordeonons, is a quality paper with a delicate, dusting of glitter throughout the finish on both sides. This glitter appearance is very subtle and less visible on the lighter colors. This fine paper has a smooth touch and natural matte surface.
Malmero Perlé is available in 2 Weights (85lb Text and 92lb Cover) and offered in monochrome shades (Black and White) and 5 vibrant colors: Abysse (Blue), Emeraude (Green), Mangue (Yellow), Orange and Vermillion (Red).
Malmero Perle is available in 7 Vivid Colors:
Blanc (White) - NOTE: The glitter appearance on the Blanc (White) is less predominate
Mangue (Yellow)
Orange
Vermillion (Red)
Abysse (Blue)
Noir (Black)
Emeraude (Green)
Malmero Perlé is Ink jet & Laser guaranteed within the substance range recommended by the printing machine manufacturers.
View all products by
Gruppo Cordenons
(or) View all
Malmero Perle
You may be interested in these Popular Items