[Clearance] Parchtone - SAGE - Parchment Envelopes - A7 Envelopes - 250 PK
[Clearance] Parchtone - SAGE - Parchment Envelopes - A7 Envelopes - 250 PK
This product is associated to the following category pages:
CLEARANCE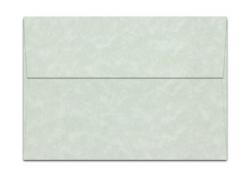 SKU: PARCH-A7B-SAGE
Parchtone - Parchment Envelopes
Size: A7 Envelopes (5-1/4-x-7-1/4)
Paper basis weight: 24/60lb Text (89gsm)
Parchment Finish / Semi-Vellum (This is NOT Translucent Vellum)
Acid Free / Chlorine Free
Made with renewable hydroelectric energy
Laser and Ink Guaranteed on text weights

Parchtone replicates the look and feel of old world authentic parchment. Parchtone offers a touch of class with a natural presence - Practical, beautiful and classy. Parchtone by French is a perfect choice for projects needing to show integrity and official status. Comfortably crossing both professional and creative markets, this subtle color palette is a natural choice to complete any project and represent your message with pride. Manufactured responsibly by French Paper Mills.
View all
PARCHTONE SWATCHES
-- View all
FRENCH Products
You may be interested in these Popular Items