French Paper - POPTONE - Banana Split - 26 x 40 Paper - 65lb COVER
French Paper - POPTONE - Banana Split - 26 x 40 Paper - 65lb COVER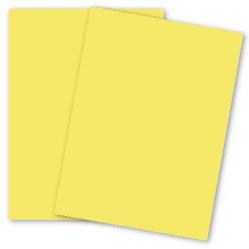 SKU: FR-PT-6504260
POP-TONE - Colorful Cardstock Paper
by The French Paper Co.
Paper size: 26-in-x-40-in
Package: Price Listed per Sheet (please note...20 sheet minimum, per color)
Basis Weight: 65lb Cover (175gsm)
Average caliper 9 pt / 222 ppi
Acid Free (Archival)
Pop-tone is a unique and colorful line of paper and envelopes created to intrigue the sense of sight and taste. Popular colors fill this full spectrum palette being one reason it is identified as popular tones (pop-tones). In addition, since this popular paper is named after flavorful candies or treats, it can tease the appetite for sweet temptations. Ultimately, this quality, full color line can assist with almost every project need; ranging from a professional business image to a creative project with no limits. Find the color that fits the project, this paper is a great addition to every designer's portfolio. Pop-tones is manufactured responsibly by French Paper Mill, manufacturer of quality paper and a family run mill since 1871.
View all French Paper products or All FRENCH POP-TONE PRODUCTS
You may be interested in these Popular Items