Basic CREAM (Lightweight) Card Stock Paper - 8.5 x 11 - 65lb Cover (176gsm) - 200 PK
Basic CREAM (Lightweight) Card Stock Paper - 8.5 x 11 - 65lb Cover (176gsm) - 200 PK
Reviews
Basic CREAM (Lightweight) Card Stock Paper - 8.5 x 11 - 65lb Cover (176gsm) - 200 PK
1
Average rating:

Write a review
|
Read all reviews
Featured positive reviews:
Basic CREAM (Lightweight) Card Stock Paper - 8.5 x 11 - 65lb Cover (176gsm) - 200 PK

SHORT grain, smooth
12/26/2014
11" x 8.5" is how the dimensions should be listed; this paper's grain runs along the shorter dimension. For many projects with a fold, such as simple booklets, this is exactly what you want. (If you fold against the grain -- that is, the long way on this card stock, short way on most others -- you'll get a distressed-looking crease) I'm coming back for more after discovering this fact and exhausting my supply on a spontaneous project with a center fold.

This cardstock is extremely silky to the touch, not much tooth at all.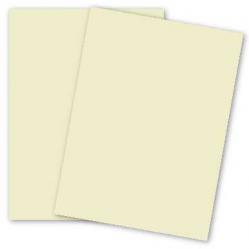 SKU: OPQ-17-184-811
Mohawk Opaque Papers - Lightweight Card Stock
Mohawk Opaque Paper, Card Stock and Envelopes are a great, cost-effective solution for everyday projects. Perfect choice for social and business projects from small to large.


Acid Free
Letter Size Card Stock

Brand: Mohawk Opaque
Product: Paper
Color: Cream
Size: 8-1/2-x-11
Content: 10% Recycled
Finish: Smooth
Basis Weight: 176 GSM (65lb Cover)
You may be interested in these Popular Items