[Clearance] CT PRIMARY RED Translucent (Vellum) 8.5 x 11 Paper - 500 PK
[Clearance] CT PRIMARY RED Translucent (Vellum) 8.5 x 11 Paper - 500 PK
This product is associated to the following category pages:
CLEARANCE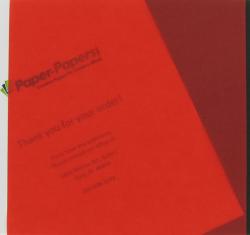 SKU: CT-358015
CT (Chartham) Translucent Papers
CT's beautiful palette of naturally translucent paper is matched by its technical excellence. (CT) Chartham is unsurpassed in its clarity of formation, superior printability and versatile range of colors. CT is made from pure cellulose fiber, is naturally translucent and free of the resins and chemical additives that make some translucent paper brittle and hard to fold. With outstanding formation and translucency, CT is recyclable, biodegradable, acid free, lignin free, elemental chlorine free

CT Clear Ink Jet and Clear Digital are both designed for multi-color ink jet printing.
Traditional Colors -- Translucent Finish / Laser and Ink compatible (Traditional colors: Birch, Spring Ochre, Blush, Leaf, Surf, Chartreuse, Magenta, Orange and Primary Red)
Shimmer Colors (Gold Dust and Platinum) -- Translucent "Shimmer" Finish / Laser compatible (not compatible with ink jet)
*Note for laser/ink printing:
INK JET: CT Sheets are suitable for single-color ink jet printing (such as text for correspondence and invitations), with the exception of Platinum and Gold Dust. As printers vary greatly in how they perform, we recommend test printing.
LASER: CT is suitable for use in most laser printers, but pretesting is recommended. Laser printers differ in the amount of heat generated and excess heat may cause the sheet to curl.


Brand: Reich CT
Product: Paper
Caliper (Avg): 3.5
Color: Primary Red
Size: 8-1/2-x-11
Content: Virgin Fiber
Finish: Translucent
Basis Weight: 113 GSM (30lb Writing)
View all CT Translucent Products
You may be interested in these Popular Items