[Clearance] A6 FOIL LINED Envelopes - White (60T) Envelopes with RED Foil Lining - 250 PK
A6 FOIL LINED Envelopes - White (60T) Envelopes with RED Foil Lining - 250 PK
This product is associated to the following category pages:
CLEARANCE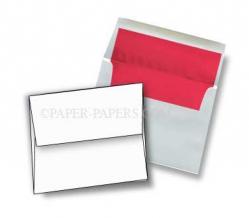 SKU: N82968-250
FOIL LINED ENVELOPES
Foil lined envelopes are an excellent choice for any occasion. Find the perfect match for your event and announce your important event encompassed with a quality envelope with foil lining. Ranging from economical mass mailing options to high-end quality. With several envelopes options, this allows you to select the style that fits your budget.


Foil Lining: RED
Brand: Cenveo
Product: Envelopes
94 Brightness
Color: White
Size: A6 (4-3/4-x-6-1/2)
Content: Virgin Fiber
Finish: Wove
Basis Weight: 089 GSM (24/60lb Text)
All Foil Lined Envelopes stocked at Paper-Papers are lined inside the Envelope's 'flap' and 'throat'. (See illustration) The red box shows the approximate placement of decorative lining inside our foil lined envelopes.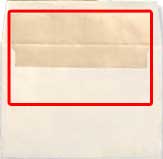 Quick reference -- Envelope Size Chart:
A2 - (4 3/8 in x 5 3/4 in)
A6 - (4 3/4 in x 6 1/2 in)
A7 - (5 1/4 in x 7 1/4 in)
A8 - (5 1/2 in x 8 1/8 in)
A9 - (5 3/4 in x 8 3/4 in)
View all
FOIL LINED ENVELOPES
You may be interested in these Popular Items